Rolex is not only a global well-known brands, in the world of watches, automatic Rolex watches also represent the luxury and craftsmanship. If you own a Rolex, how to keep this precious timepiece in the best condition possible ? A quality single watch winder is always the best choice.
Why do you need a watch winder for Rolex?
If you have a luxurious and expensive watch like Rolex, the watch winder is one of the tool you must buy, although the Rolex watches are great, they also need careful maintenance. It goes without saying that Rolex requires regular use to keep it running, just like other automatic watches. But for most of the people, they will not wear such an expensive watch all the time, once it runs out of steam, it's not easy to wind it by yourself and not cheap to maintain it at a watch store.
It's time to have a quality watch winder, which provides a place to keep your automatic watches fully wound up and ensure that the time is still set correctly even if you don't wear them. As a watch enthusiast, you must be willing to display your wonderful watch collections, so a watch winder not only protects your favorite watches, but also display your precious timepieces in a perfect way. 
How I choose watch winder for Rolex?
The same as choosing watches, it's also important to select a watch winder for your precious watch collections. After all, you will not be happy to place your Rolex watch in a poor-quality watch winder. A high-end automatic watch deserves the best equipment to keep it in good performance. 
What you should to consider?
Design
The watch winder is usually designed as a storage case or a jewelry box with a display window. Beside winding your watches, the watch winder is also an exquisite craft, which presents your elegant taste. Most of the winder is made of leather, metal and various kinds of wood, you could choose one look nice and beautiful. 
Rotation Slots & Storage
 At first, you should consider the size and slot number of the watch winder, it is one of the first thing you need to look at. If you just want to store one watch, the single watch winder is enough, but if you are a watch collector who owned more than two watches, you could choose double or multiple watch winder.
Some special designed watch winders will also have other features such as extra storage places, fingerprint lock, touch screen control, synchronized time displays and so on. You could select one depends on your need.
Cost-effective
The expensive watches need to be cared, if you have the enough budgets to maintain your prized timepieces, you could absolutely purchase a winder from a watch dealer store at least a thousand bucks. But in fact, there are also several affordable options in this field. 
Where to buy a suitable watch winder for Rolex?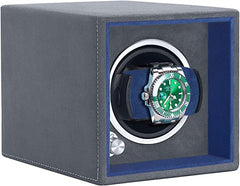 Choose the right watch winder which suits your needs will help you experience more enjoyment from watch collections. If you would like to select the best and most cost-effective winder, I highly recommend you our SmartCube watch winder series. It is a special design single watch winder with solid wood and finish carbon fiber exterior, which makes your precious watches safe and provide a delicate storage.
Premiumwatchwinders is an online shop always the best place you can select watch winders for your favorite watches. Our exceptional customer service with integrity and honesty will be exclusive for you all the time.