What is a watch winder test and comparison?
The watch case is a mechanical device. The device has a holder into which automatic watches can be inserted. The watch winder uses a rotary motion to wind these watches. Automatic watches are not powered by a battery, but are wound again and again on the wrist by natural movement. If you do not wear your watch permanently, it cannot be wound automatically.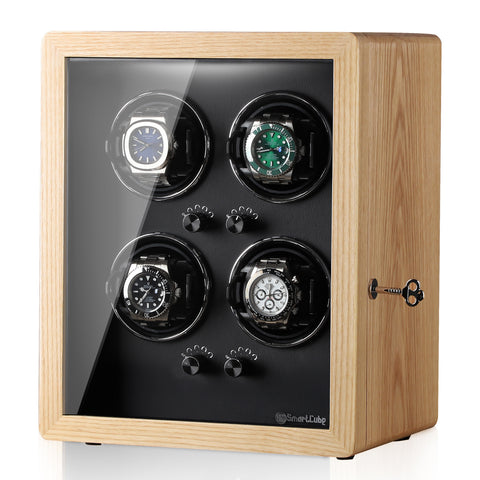 This is where the watch winder comes into play: it ensures that the watch is always wound if it is not worn for an extended period of time. Watch winders have a subtle look reminiscent of a watch box or case. They are padded on the inside, so the urn is soft. Whether a watch winder can hold one or more automatic watches at the same time depends on the model.

In tests, if the watch winder is equipped with a sight glass, it has proven itself time and time again. This allows it to be used for demonstration purposes. insbesondre collectors are pleased to see their clocks in the Winder. Whether the watch winder is made of wood or brass, stainless steel or other materials is a matter of taste. The comparison shows that different manufacturers are beautifully designed to make watch winders of each material. Whether it is a nostalgic look, minimalist or modern design, it all depends on the user's preference.

The watch winder under test has a rotor shaft. Through this shaft an electric motor is driven. Most watch winders are powered by the mains, but battery-powered models are also available for vacation or business travel. Most automatic watches require about 650 to 900 revolutions per day, on both sides.
What types of watch winders are available?

1.Workshop watch winders.
Manufacturers of branded watches still have numerous automatic watches, even though the segment is declining. High-priced automatic watches require maintenance in the workshop. Watchmakers' workshops use watch winders that do not have housings, but allow for finer and more refined adjustments to rotational movements.

For watch enthusiasts, these devices are uninteresting. They have many functions to protect the movement from sticking oil and maintain accuracy. But they are difficult to use, expensive and purely functional.

2.Watch winders for private use.
What types of watch winders are available for testing? Compared to professional devices, watch winders for home use are complex and elegant in design. Neatly, they invite you to look at clocks designed to be eye-catching in any case. They look particularly good on display cabinets, mantelpieces, bedside tables or open shelves.

In the test, the watch winders are mostly power operated, providing the most common rotation program and therefore can be adjusted to automatic watches. An LED backlight was used to illuminate the design. The glass panel described earlier allows a clear view of the watch in the watch winder. However, as the test shows, the glass is also important for the dustproofing of expensive watches. In this section of home devices, there is a difference between entry-level models and more or less noble devices and individual parts from cost-intensive hand work and expensive wood.

The advantages of a private use device are its elegant design, the adequate number of functions and programs and the protection of automatic watches.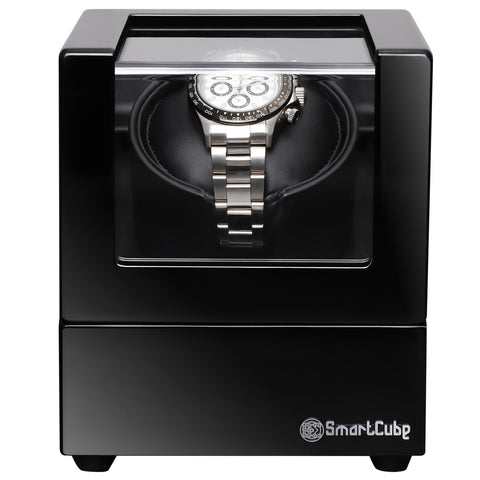 The downside is that most devices are only available for automatic watches and the lighting usually cannot be turned off. Tests have shown that not all devices support all rotation programs.

3.Watch winders for more than one watch.
Some models can hold up to eight automatic watches at a time. These costly movers are also available for private use. The fascinating designs of these watchmakers make them truly remarkable. Noble designs made of rare woods, with or without inlays, and even models with a modern plastic look can be found here. These devices are larger than the watch winders used for only one watch , but offer separate rotation programs for different watches.

This is advantageous: a watch winder can accommodate several automatic watches, and it becomes a decorative piece for each room with its elegant design. The disadvantage is that not every watch feels equally comfortable in this watch winder, and the equipment is very expensive.
4.Distinction according to the size of automatic watches.
Women's watches are usually much smaller and more delicate than men's watches. Tests have shown that not every watch winder is large enough to fit every watch: the size must be correct. It makes sense to compare by size before buying.
This is how the watch winder is tested

Of course, each test uses different criteria. How else should the device be evaluated? The goal is the decisive factor for the criteria. Should the test find the most beautiful device, or is it more about innovative technology? Is it about craftsmanship or cost effectiveness?

Everything is possible. However, when comparing different models, it is important to pay attention to some manufacturer information. Whether the test lists these points or not.

1.Design.
We compare watch winder looks based on these tests depending on the personal taste of each watch collector. However, the situation will vary whether it is in an Italian Baroque parlor, a modern watch winder made of acrylic glass with colored LED lighting or a device made of different colored wood with inlay and gold plating.

2.Interval switching.
High-quality devices interrupt the rotational movement from time to time. This can usually be set individually. It is common for settings of approximately 1,000 revolutions per day to alternate between rotation and pause.

Interval switching is especially useful when the watch winder is placed on the nightstand and sleep should not be disturbed by operating noise at night.

3.Direction of travel.
The direction of movement of the watch winder must match the direction of movement of the automatic watch winding mechanism. Some watches may only wind clockwise, some only counterclockwise, and some models require movement in both directions. The device should have the required rotation for the test.

4.Materials.
The housing can be made of carbon, precious wood or glass. Viewing windows made of glass or real glass covers can also be found in watch carts, which are basically made of good quality wood with and without application. Inexpensive devices are usually made of plastic. Combinations with acrylic glass covers or plexiglass provide protection against dust.

In tests, plastic enclosures with a piano lacquer look were rated particularly good in terms of design. For high-quality devices, the material is not so important: In tests, the watch winder was essentially the best, with a moderate and stable weight.
5.Price.
Not all cheap devices made of plastic are bad, and neither are some expensive watch winders made of quality wood. At least not for faulty watches. The price must be right, but high price does not always mean high quality.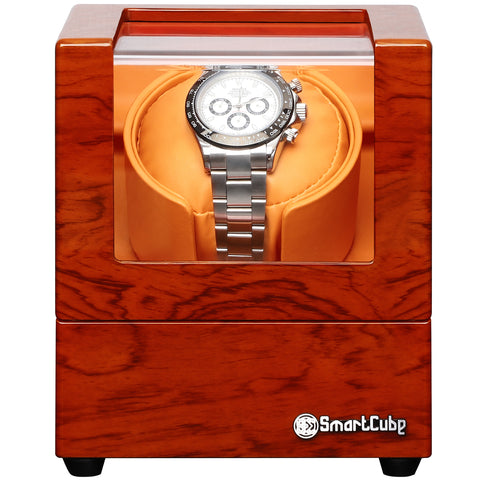 Possible test standards

1.Materials.
The classic and noble wood shell requires more care than the glass cover, and the sporty carbon fiber look requires a different treatment than the piano lacquer look of the plastic. There are also differences inside. By contrast, watch winders are lined with velvet or synthetic leather, suede or other textiles.

2.Size.
These test criteria are possible in a watch winder comparison How many watch stands are in the device? Smaller devices can be used as storage locations for a single watch. However, there are models that can hold two, four, six or more watches.

Many watch winders show more watch compartments in the test, they have jewelry compartments and additional storage space. If a watch winder and a watch are to be stored in a safe, the size of the device is more important than the design.

3.Technology.
A ball-bearing drive mechanism connected to an economical gear motor ensures quiet and long-lasting operation. In contrast, cheaper devices are noisy and unreliable: here plastic gears are usually installed.

4.Processing.
This allows users and users not to judge themselves too often when buying. A rough rule is that for cheap models below 50 euros, one must assume industrial mass production so that there is less quality control. On the other hand, high-priced devices are usually handmade and therefore reliable. If you want to know more, check out the hinges.

High quality craftsmanship is evident here, as is the precision with which the textile pads are fixed inside the watch winder. Clearly visible adhesive residue is not a good sign.
5.Function.
The different functions of watch winders in testing and comparing high quality devices are usually individually programmable and sometimes they have intelligent control systems. The direction of opening and the sequence of rotation and pause should be individually configurable. The best watch winder is basically the one who moves the watch neither too much nor too little.

6.Service.
Analog controls such as toggle switches and knobs are easy to use. Modern digital LED displays also allow easy setup of the device. The display's backlight should ensure that all information is easy to read.

7.Fixation.
Automatic watches have watch pads that extend over them as standard. However, watch winders using watch clips are now also available. The best technique here is the one that has proven itself in tests at home. Experience shows that large watches are best placed on a pillow, as the clasp is sometimes a bit small.

8.Power supply.
Power-operated watch winders can be set up nicely in an apartment, but are rather impractical to store in a safe and while traveling. In contrast, battery-powered devices are more appropriate.

The manufacturer will state the run time of a battery operated watch winder on a set of batteries. Usually it is about one year.

1.Quality.
A high quality device with modern technology and elegant design or a simple device at a low price? Both are available.

2.Which watches and how many watches should the device fit?
What do I need to look for when buying a watch winder test winner? The test found The watch winder with one or more holders is suitable for large and heavy watches (more powerful motors) or quite small watches.

3.Where and how is the device used?
Small, compact and battery-powered devices can be stored in cabinets or safes. Large and beautiful devices are suitable as eye-catching devices for living rooms or reception rooms. Very quiet devices are designed for bedside tables.

4.How does the lighting work?
Integrated LED lighting is nice to look at, but annoying to put on a nightstand. When purchasing, note whether the lighting can be turned off when necessary.

5.Energy consumption.
This is not so important for mains operation, but it can be a buying criterion for battery-powered devices. Energy-saving interval switching is preferable because the battery life is longer.
Disadvantages

1.Disturbing noise: even an otherwise quiet device can get louder at some point. If this happens after a few weeks, it can be very annoying.
2.A common Amazon drawback of many products tested and compared by a watch winder Case scratches: Some watch winders are very sensitive in real-world tests, and the cover glass and bottom structure are quickly scratched for normal use.
3.Scratching the watch: Some watch winders have quite hard material inside. If the watch is not inserted very carefully, the bracelet will be scratched during the test.
4.Improper power supply: Some devices were made in other countries and apparently not always for the German market. Customers complained that the power supply did not have the common German plug and that adapters had to be purchased.
5.Defective motors: Some devices did not seem to have a particularly long service life: in some cases, motor noise indicated a defect. Customers complained that the motors failed after a few months.
6.Watches rubbing against the glass: When testing watch winders, not only the external dimensions are important, but also the internal dimensions. It is not a good thing if the watch rubs against the glass during operation.
7.Plastic instead of glass: Some manufacturers seem to promise to use glass for the lid, but actually process plexiglass. That's a quality defect.
8.Poor workmanship: Even if a device from a reputable manufacturer is rated good or very good in tests, sometimes the workmanship is clearly not good.
Plastic instead of leather: If leather is specified as the material for the inner cushion, it can also be artificial leather, i.e. plastic.
9.The watch is not gripped: Some models have a clip that is so abnormally attached that the watch slips out.
Customer reviews depict these advantages and disadvantages.

Advantages of the comparison of the watch top striker test The points of customer criticism mentioned on the relevant trading platform have already been stated above. However, for comparison, the positive things are also important.

Quiet feature
good workmanship
good value for money
Can be operated by power unit and battery
Great design
Well-made interior
The bracket can be adjusted to the size of the strap
High quality brass hinges installed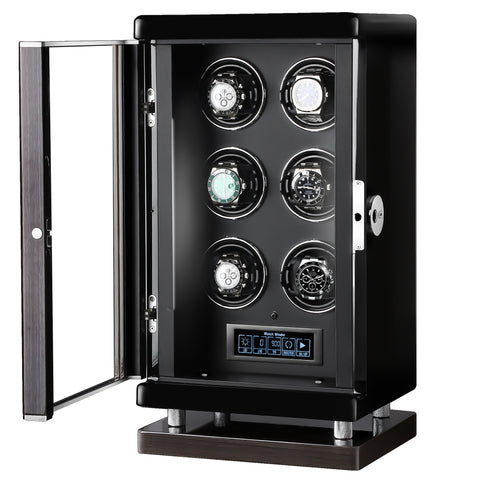 Frequently asked questions.

1.Can the clock be moved separately?
Yes, if the moving company allows it. Since each automatic watch is slightly different and requires different rotational movements, this makes sense.

2.Which manufacturer has the best device?
The best watch winder in testing and comparison depends on the clock to be moved with the device, where the device is located, and the requirements for the device. Manufacturers such as premiumwatchwinders offer high quality and very different devices.

3.Where can I buy a watch winder for automatic watches?
Professional deals on the Internet offer a large selection and good advice. In tests, the selection here is larger than in local boutiques. However, audiophile devices are usually purchased directly from the manufacturer and evaluated personally. This effort is especially worthwhile when comparing different unique items.

4.Is it bad for an automatic watch to not move?
Yes. This is because the watch oil will resinize and the watch will stop. Automatic watches are wound by the movement. In addition, when the clock does not move, the moon and date displays change. Resetting and running all this is both time consuming and expensive.

5.How expensive is a watch winder?
Simple devices that cost less than 80 euros could be used in the test. However, they are very simple in construction and do not always offer the best quality in terms of clock protection, programming and longevity.

6.What material should the movers be made of?
That depends on personal taste. It is important that the gears are made of good quality metal and not plastic.
In addition, the device should have a cover to protect the watch from dust.